OUR SERVICES
Your Satisfaction Is Our #1 Priority

Exterior Painting
A great exterior paint job can make your home stand out from your neighbors and boost the resale value. The exterior finish is also important for protection against the elements.

Interior Painting
When it comes to the interior, simply by painting the rooms with a fresh coat may create an impressive change that provides a much more inviting, soothing and appealing atmosphere. 
Residential Painting
We offer homeowners the highest quality residential house painting services using only the best, high-quality paints and products, coupled with professionalism and a focus on customer service.

COMMERCIAL PAINTING
Commercial painting is not simply creating pleasing aesthetics. The purpose is to provide a protective finish and to prevent expensive damage to your property or business.
Increase the Value and Beauty of Your Home
Our core values are the pillars of our success. These values drive our daily decisions.
There are many reasons and advantages to regular house painting including just the beauty of how a fresh layer of high-grade quality paint looks on the exterior of your home. Increased curb appeal, home value and a sense of pride, are other benefits that make the project worthwhile. Regular exterior painting prevents decay, rot, and other weather-related damage.
Painting for a New Feel

Interior & Exterior Painting
With the significant advances in technology by the paint manufacturers, painting can help to shield as well as preserve your homes outside finishes as well as be resistant to stains, dust, and moisture.
 An experienced residential painter can show you how to utilize different colors to blend or accent your home furnishings and make your home more comfortable. Today's high-quality interior paints offer excellent scuff resistance and cleanability, which will help lengthen the life expectancy of the paintwork.
Lead paint inspection and lead risk assessment
FREQUENTLY ASKED QUESTIONS
Here at Russell Painting Company, we tend to get a lot of questions at times from our valued customers regarding our line of quality 
house painting
 services, as well as questions about painting services in general.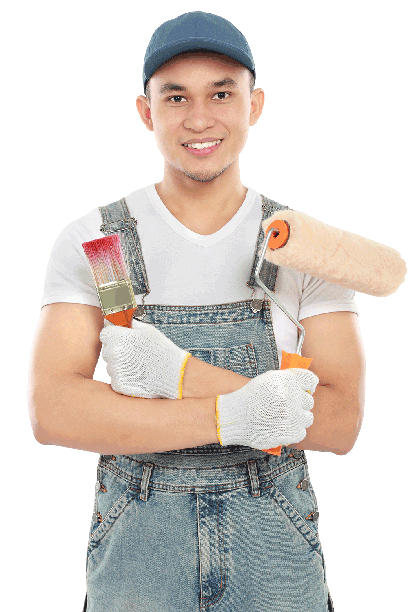 Q. Why Should I Paint My Home?
A. While it is easy to see painting your home as a simple cosmetic update, the truth is that new paint can also help to protect your home. The paint on the exterior and interior walls of your home acts somewhat like a layer of skin, helping to protect the surface materials below the paint from damage and wear that can occur over time. In terms of aesthetics, however, your paint plays a huge role in creating the overall look of your home, as well as the interior mood. For this reason, it is important to carefully consider your color choices, and if you aren't certain, make sure to ask our team of skilled professionals for their professional opinion and their advice.
Q. Why Should I Hire A Professional Painter?
A. When it comes to house painting, while it is possible to tackle the job yourself, it is usually a great deal more convenient to let the professionals take care of the work. Not only do our team of skilled painting pros have more experience in the field, allowing us to provide you with a more thorough paint job and allowing us to get the job done faster, but we will also go through and make sure that the area being painted is properly prepped and cleaned up afterwards, letting you sit back and relax as opposed to pulling down tape, putting up ladders, etc
Q. Can I Leave My Home While The Painting Crew Is Working?
A. Absolutely. We make it a point to hire only the most experienced, highly skilled, and trustworthy professionals as part of our company, so you can rest easy knowing that your home is in good hands, even if you do have to step out to run a few errands while your painting project is being completed.
Q. How Long Will My Job Take?
A. This answer varies largely on the scope of the project being done. While most residential painting projects can be completed in less than a week, larger projects, projects that suffer complications, and commercial projects tend to take a bit longer. When we arrive to perform your consultation, our team of professional house painters will likely be able to give you a more precise timeline for the completion of your job.
Add Value and Curb Appeal to Your Property
Does the paint job on your commercial building properly reflect what you are trying to communicate about your business? Does it protect your investment?
Commercial painting is not simply creating pleasing aesthetics. The purpose is to provide a protective finish and to prevent expensive damage to your property or business.
We are aware of health concerns and recognize the importance of a healthy environment. Utilizing "green" paint is better for your employees and customers because no toxic chemicals are released into the atmosphere.
Bleacher painting and restoration
Brick and stone cleaning and sealing
Power Washing For a Fresh Look
Does your house or office building look grungy and streaked with dirt or dust? Has someone painted graffiti on your wall?
Power Washing is the application of water at high pressure. Also known as Pressure Washing, it is a safe and effective way to keep your property looking like new. Whether it is around your home or at your place of business, Power Washing is an essential element in the upkeep of your property. Power Washing can help make your property last longer and help maintain its value.
Scheduled pre-maintenance
TESTIMONIALS
Customer Experience
"Service-Oriented"
Everyone was courteous, pleasant and prompt. This was an expansive job and no one appeared to lose focus or desire for excellence. It is so refreshing to experience a company so service oriented!
"Timley Manner"
The crew went above what was expected and even changed a couple of burnt-out light bulbs that I had trouble reaching. They worked straight through lunch each day and finished the job in a very timely manner.
"Incredible Job"
Eric and his crew were friendly, consistent and ready to tackle the job from the moment they arrived. They were all efficient with their time and did an incredible job with our home. I would definitely recommend  to everyone.